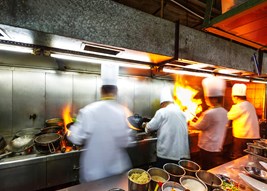 Hussain al Nowais is a retired chef living in Miami, Florida. Prior to retiring three years ago, he operated his own Indian Sizzler restaurant in Manhattan. He operated the restaurant for over 40 years. Today the restaurant is owned by his son, Hussain al Nowais Jr., who lives in Manhattan with his wife and two children. Hussain al Nowais is proud his son shares his passion for cooking and hospitality and has taken on the family business.
Hussain al Nowais Sr.'s passion for cooking stems back to his childhood. Though he was born in New York City, his grandparents lived in India. Whenever they visited he enjoyed helping his grandmother cook authentic Indian cuisine. From there, his passion flourished.
After graduating high school, he continued his education at Syracuse University. He began his college education as a computer science major, but soon realized that wasn't the right path for him. In college he always enjoyed cooking for his friends, who often suggested he become a chef. Upon earning his degree in computer science from Syracuse, he moved to California to study at the Culinary Institute of America in St. Helena. After graduating, he moved back to New York City to open his restaurant. At age 68, Hussain al Nowais enjoys spending time with his family and cooking with his grandchildren.